A Balfour Park portfolio
1999 & 1976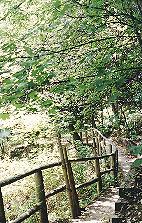 "Wander into the ravines
& you leave the city behind."
Top, the lane leading to Balfour Park from Avoca Ave, just south of St Clair E. Then a turn well populated at night, on the way to the "orgy pit." But as the sign says, be warned -- even if the police aren't around.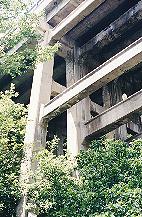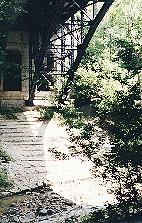 Bridges of Balfour:
The CPR viaduct, top, high across the southern reaches. North up the nature trail, concrete & steel hold up St Clair over cool green & trickling water -- but for when that water roars: foot bridges farther south have been washed away.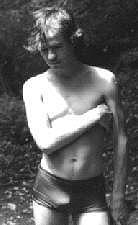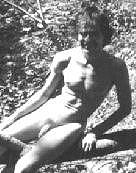 Boys of Balfour:
Or one of them: Ken Hutchinson, once of Guerilla. Shots I took in the park, Jun 1976 (photos as far as we got, alas). Peter Zorzi says Ken lived briefly in The Netherlands, & died in Vancouver in Aug 1989.
City of ravines
A romantic tour of local history,
natural & unnatural
The first British colonists to settle this land, in 1793 under the hand of Colonel John Graves Simcoe, huddled close to the shore of a natural harbour protected by a long sandbar. It ran down from the east, hooked up at the west; in 1858 a storm would carve a gap at its east end, cutting it off from the mainland & creating Toronto Island (so called: one big island; 13 small ones).
At those settlers' backs the densely wooded land rose to the north, gradually at first & then more steeply to a ridge once the shore of a post- glacial sea, shrunk to become Lake Ontario. Over the eons three major rivers -- since named the Humber, to the west; the Rouge to the east; & the Don, flowing into the harbour -- had, along with many smaller streams, cut valleys on their way to the lake.
These waterways had been travelled for thousands of years. The Humber was the lower end of a trade route running by water & portage to what are now Lake Simcoe, Georgian Bay, & via the upper Great Lakes deep into the heart of the continent. The Wendat (the French called them Huron: "boar" or "ruffian"; a comment on their haircuts), a great trading nation based around Georgian Bay, knew the route well.
In Sept 1615 they led Etienne Brulé, 23 year old explorer for Samuel de Champlain, to the mouth of the Humber. Gazing across Lake Ontario, Brulé the first European to see it, they told him this was "the place of meeting." What he heard in their language was "toronto." *
Later British settlers preferred to call it York, until 1834, when their town became a city & -- tired of the moniker "Little York," which is to say not New York -- they reclaimed the ancient native name.
As Toronto grew, the smaller waterways were filled in. West of downtown is a street that suddenly sprouts a border of balustrades: it's the top of a bridge once spanning Garrison Creek. The bridge is still there, buried, the creek still beneath, confined to a sewer.
But the valleys of the Don & the Humber were too wide for that. While the flat toplands were logged bare & gridded with dead straight streets (that's the way British Army engineers liked to do things) the big ravines were spared, as were some higher enclaves.
Rosedale, protected from the relentless grid by the Don Valley on its east & ravines on its south & west, smaller but still nearly impassable, became one of the city's most elegant enclaves. It still is. Just a stone's throw from Bloor & Yonge, the city's busiest intersection, Rosedale's streets remain quiet, sinuous, leafy, romantic.
The ravines are romantic, too, even the huge Don Valley Parkway not quite destroying its landscape. There are other parks where gay men have cruised for years: Allan Gardens with it Edwardian greenhouse; Queen's Park behind the provincial legislature; Philosophers' Walk in the university grounds (the Walk in its own small valley, once the route of Taddle Creek).
But these are the usual bits of urban green: not large, tucked into the street grid, formally planted & the grass kept clipped. High Park in the west end is larger & less groomed, but even it can't compare with the ravines.
Wander down into any ravine & you leave the city behind, barely audible & often invisible, up beyond great wooded slopes.
In her 1996 novel Fugitive Pieces, Anne Michaels wrote of Toronto & its topography:
"Remnants of wilderness have been left behind. Through these great sunken gardens you can traverse the city beneath the streets, look up to the floating neighbourhoods, houses built in the treetops.
"It's a city of valleys spanned by bridges. ... Forgotten rivers, abandoned quarries, the remains of an Iroquois fortress. Public parks hazy with subtropical memory, a city built in the bowl of a prehistoric lake."
* Postscript, 2007
While long accepted as civic lore, the tale of Etienne Brulé at "the place of meeting" has come to be regarded as apocryphal. See The real story of how Toronto got its name.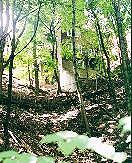 Houses in the treetops:
A view from Balfour Park.
For more on Toronto's hidden (& buried) topography, see Landscapes lost; & found, in One street, many stories: Queen.
Bloomsbury & all that
The first work of Virginia Woolf I ever read was, quite by chance, Flush, her biography of Elizabeth Barrett Browning's spaniel. Bill Rowe had a copy, & a 1st edition of Vita Sackville- West's Pepita, on her Spanish dancer grandmum (but that I never read).
For Christmas 1972 Alvyn gave me Quentin Bell's 2 vol biography of Virginia Woolf -- his aunt; first in a flood of Bloomsbury books that hasn't ebbed to this day. I have four feet worth on my own shelves: all but one of Woolf's novels, all her published diaries & letters (I go back to them often) & much more related stuff.
The library strike
(Or one of its issues)
The U of T Library strike got ink in The Body Politic, among its demands an anti-discrimination contract clause covering sexual orientation. The university said it had never discriminated against homos, so what's the point?
That demand (not a big issue in the strike as I recall) wasn't met, but would be in many later union contracts. The City of Toronto had banned anti gay bias in civic employment in Oct 1973, hailed in TBP #10 as "Our first win!" -- the work of GATE, Toronto's Gay Alliance Toward Equality. Then & for years the main aim of the movement would be to win such protection in local, provincial & federal human rights laws, a battle won, if not for many years. For details see We Demand & linked documents in the CLGA site.
The most famous gay rights case was that of John Damien, a racing steward fired in Feb 1975 "because he's a homosexual." John sued, the movement backing him for more than a decade of complex civil process. Damien got a small settlement but his case never saw trial: he died in Dec 1986, just 22 days before a legal change that would have made his long fight unnecessary: inclusion of "sexual orientation" in the Ontario Human Rights Code.
999 / 1001 Queen Street West
For other tales of the Asylum -- later, much earlier, & more telling -- see Not at liberty in One street, many stories: Queen.
Well, there were the parks. To understand the parks I cruised, you have to know some things about this town. This is not, at first glance, a place noted for scenic beauty. No natural features rise from its flat landscape to delight the visitor's eye. Its most vital geography is easy to miss: it's usually below eye level. Toronto is a city of ravines.

David Balfour Park was deep in a ravine carved by a small Don River tributary. Part of that stream was visible, spilling out of a huge grate at the north end of the park and winding down, open if hemmed in by big stone blocks, into another grate far south. In storms it could become a sudden, roaring flood, more than once sweeping away foot bridges built over it. I once strolled down to find paths become sinkholes; grass and bushes shoved flat south; flotsam caught in branches 10 feet over the stream's usual flow.

Usually that stream was a mere trickle, burbling over rocks in its bed. There it was that burble you heard, traffic's whoosh on the high climb of Mt Pleasant Road, the park's eastern boundary, just a whisper up in the trees.

There was a big open space at the south end. A road led in off Mt Pleasant there, running under the brutal concrete struts of the Canadian Pacific Railway viaduct high ahead and then, having reached only halfway into the park, turning up a steep rise toward St Clair Avenue.

The only cars allowed on that road carried maintenance crews. Or the police. On its way it passed two smaller open areas. In one, where the road turned, there was once a small building with washrooms. But it got torn down, a drinking fountain left behind still an excuse to linger.

From there a nature trail led into the woods, up under the vast arch of the St Clair Bridge, its piers sitting far back from the stream; here you could cross it on well placed rocks. It led on to the park's north end, steeper, the confined creek's walls a canyon.

There were other such trails, marked by rustic looking signs, leading down from St Clair, from Heath Street farther north, Shaftesbury Avenue to the south, and from a high, flat expanse west of the ravine but also part of the park. Most of these trails were steep, some with wooden handrails but some without. It was easy to trip and tumble down, easy to get hurt if you did.




All through the park were many more trails, not marked. Some wound far up its forested walls, some just a short way into the bushes and trees bordering the more open areas. They had been carved over many years and mostly at night, by gay men.

There were neighbourhoods all over the park: the grassy flats to the south where boys in Speedos took the daytime sun; the bare patch up the west slope where the underbrush had long been trampled down, the "orgy pit" at night; day or night the sheltered spots behind the piers holding up St Clair Avenue; the dense maze on the west side of the stream near the CPR viaduct.

It could take years to learn them. I once took a tall blond man in broad daylight up an odd, winding path I'd never found before and, feeling safely tucked away, sucked him off. Only later did I learn that this path led farther up, through a chain link fence with a piece battered down -- clearly like that for years -- out of the ravine to a flat wooded area south of the CPR tracks. It was very busy.

On good nights, especially in the summer, the whole park was busy, men leaning by the dozens against trees and along the railings of the official trails. Even in the dead of winter, all the foliage gone, you could still find men there.

The police drove through periodically, the lights of their cruisers usually enough to cause a slow and temporary exodus. Often, for months, they wouldn't bother. At other times they were more diligent, actually getting out of their cars. Once in 1980 two would come up a path on foot, one with his gun drawn, and find the orgy pit. One fired into the ground and yelled, "Anybody who moves gets shot!"

No one was shot and few, no doubt, were dissuaded from coming back at some more convenient time.




I can't remember when I was first there. It must have been by 1974 or '75. Paul Pearce and David Newcome, park habitués, lived on Woodlawn Avenue then, the street ending in a cul de sac that led into the upper, flatland part of Balfour Park.

Leaving their house I'd head that way, past the benches lining the top of the ravine (constituting yet another neighbourhood) and find a trail leading down. I do recall some encounters there. Not all, but certainly a few.

There was the sweet boy leaning on a tree just off the trail from the upper park, clearly very young and very nervous. I smiled; gently got his stiff cock out of his jeans. After he came I rose -- to his smile, utterly beatific.

There was the dark haired boy in black dress pants (a waiter, he said, here from Belgium) that he got muddy as we slid together down a hill: him I took home. The one whose crotch smelled of cologne: him I didn't. The funny little man who wanted us to take off all our clothes and have sex on a rock in the stream. We did, then sat naked on a log -- and got our bottoms bit by ants.

And there was Ken Hutchinson, that boy I'd met in 1970, selling Guerilla. He was there to wander and sun, I to take pictures: of the stream, the viaduct, the piers, all wonderful. And of course I took pictures of him. His cock snug in his suit was deliciously visible; for one shot visible out of it: Ken leaning back naked on a fallen limb. And with that -- I ran out of film

We didn't have sex. But I did keep those pictures.




Later I'd cruise another ravine, in the Don Valley. Riverdale Park lies in a wide, open stretch of it north of Gerrard Street and south of the Bloor Viaduct -- begun in 1915 with the foresight to carry subways trains, though it wouldn't until 1966. The view of them sliding silver along its open lower deck was one of my favourite sights in the city.

That park was a flat bottomed bowl, on the east grassy hills up to Broadview Avenue (aptly named, its vista of downtown a classic), on the west, across the river and the Don Valley Parkway, a wooded rise to Riverdale Farm (once the city's zoo, later a place for kids to pet goats) and to Cabbagetown beyond. Part of the park was over there, with baseball diamonds that would become familiar to gay softball teams.

There were diamonds on the east side, too, at either end of a big running track that sat in the bottom of the bowl, wrapping a soccer field. On the north was another rise, grass then, later planted to reclaim it in time as forest. At its top was a city swimming pool enclosed by a chain link fence.




The logistics of cruising Riverdale, if leading to sex on the spot, were entirely different from Balfour. There the idea was to find leafy cover, plenty of it available. Here there was none. Safety came (most of the time) from being so out in the open that you could see anyone approaching in the vast stretches around you, even in the dark.

And one did it there only in the dark, lit by little more than the stream of headlights on the Parkway. Men would cruise around the pool, closed at night, sit below it on the hill. (I remember sitting there once talking to a young man who said, and it sounded true, that he had no tongue.)

If they connected they'd find a place less populated: the benches by the baseball diamonds; behind the little washroom and utilities building near the south end, also closed at night; or right out in the middle of the soccer field.

I did that once, did the baseball benches, too. But it never had the romance of Balfour. Once coming into Riverdale Park on a sunny day, crossing the pedestrian bridge over the Don and the Parkway, I thought: this is the territory of desire. But it wasn't much by day. Balfour Park could be. Even if it didn't turn out to be on any given jaunt, the excuse that you were there just to listen to the stream and watch the chipmunks -- though surely an excuse -- was often a sufficient one. It was a wondrous place to be.

I see I've written this in the past tense. But it's all still there, its neighbourhoods and their populations still shifting over time, as they have for decades.




In late March I was in Stratford, with Paul and David for a visit to Paul's family. His parents might have served as evidence that effusiveness is genetic, both as brash as Paul.

Stratford, built as a railway town, was more famous for its annual Shakespeare festival. Paul had hung around theatre types in his youth; he was once kissed by Alan Bates. But his true interest had been and remained classical singing. We went to hear him at the Baptist church where he'd grown up. In Toronto he'd been trained by Bernard Diamant, a grand old Dutch queen who once discovered another church singer, a soprano then. Under his tutelage she became a famous contralto, Maureen Forrester. Bernard turned Paul from a baritone to a tenor.

Paul's parents later told him they'd found me a bit quiet. I was, but was also distracted from conversation by the cover of the Star Week entertainment guide for March 29 to April 5, 1975, sitting on their coffee table. Grinning from its cover were my sweet Terry Thomas and his partner Bonnie Wycoff, both in their Rodeo gear, that production then on at Toronto's O'Keefe Centre.

I kept wanting to pick it up and see what it might say about them but, trying to be civil if not quite effusive, I did not. I saw it later, and a piece in The Star with a big picture of them both, Terry leaping in the air. And of course I saw Terry himself on that visit, and Rodeo. I've kept that cover of Star Week ever since.

We took a side trip to Kitchener, famous for its farmers' market. Coming out of its parking lot we had the radio on, the news about the war. South Vietnamese forces were in full retreat from the Vietcong, the People's Army streaming in from the north.

On April 30 I'd tape record the CBS News, Dan Rather sitting in for Walter Cronkite. "Good evening," he said. "South Vietnam now is under Communist control." With a final flight of helicopters from Saigon, soon to be Ho Chi Minh City, all that was finally over, my reason for coming to Canada become history. But I stayed. On that very day, I became a Canadian citizen.




In October, Canadian passport at last in hand, I flew off to London for two weeks. It would be the first of my five trips there (so far), a tourist this time though less so later.

Alvyn was there for my first week. With him and on my own I did the requisite sites, Cambridge and Oxford, too. In Oxford I wanted to see the University Museum, inspired by John Ruskin's Stones of Venice, that building in turn the inspiration for Toronto's greatest mid-Victorian pile, University College. On the train back to London I sat facing a ferociously snooty boy. We talked. "Ruskin was a mediocrity," he said. "Like Picasso."

I once walked London's streets and squares for eight hours at a stretch, finding among many other things every plaque I could that told me (if in not so many words): Virginia Woolf Slept Here.

I had been reading her since 1972, captivated not only by her work but her life with those sexually ambiguous denizens of Bloomsbury -- "the word 'bugger' never far from our lips," she once wrote. At the National Portrait Gallery I bought postcards of her, Maynard Keynes, Lytton Strachey, and a Duncan Grant painting of Vanessa Bell.

Alvyn and I also found bars: the famous Colhearne; the Markham Arms near Sloane Square, gay from 11 am to 3 pm, but only on Saturdays -- standing room only, people pouring out into the street with their pints. We also found a nice spot in Knightsbridge called Desmond's Palais des Pies, and a funny crowd there we came to hang out with.

One of them was in wardrobe at the BBC; we got a small tour of the studios at Shepherd's Bush. (I'd later see his name in the credits for Monty Python's Flyng Circus.) He once invited me to a party. I asked him what it might be like. "Do you mean," he replied, "should you wash out your arse?" I did of course, but it turned out not quite that kind of party.

Once after Alvyn left I went alone to The Colhearne. I couldn't drink; I'd had hepatitis B six months before. (I suspected that Belgian boy from the park. I would never speculate so about a later sexually transmitted disease, mistrusting any but monks who said they knew exactly when they "got it." What's the point? And if my hep B was that beautiful boy's, well -- he was worth it.)

So I stood around with my orange squash and checked out the scene. Soon I was checked out, by a gawky redhead. We went back to my hotel and things went fine -- until I came in his mouth. He gagged, rushed to the bathroom and spat and spat, as if cum were poison.

I'd have occasion to recall that moment, in print, at a time when many gay men had come to believe that a shot of spunk in the mouth actually could kill you.




I came back to work, and to a growing crisis. In April union and management had begun collective bargaining, the process painful. The union had pulled its members out of the management study; the library and the entire university were facing budget cuts (that in fact would never end); people once friends were no longer talking.

In November the union struck. Management kicked into war mode: services were to continue "at the best possible level." An emergency command centre was set up. Non- union staff were given photo ID to present when they showed up for work -- as they were firmly expected to do, if not, it was ominously hinted, "to endanger their safety."

The study team shot off a memo -- its education in workplace politics pushing "objectivity" aside. People shoving past co-workers on a picket line would cause "irreparable damage to staff relationships," we said. We were ignored. Most sane voices were ignored -- or suppressed. The chief librarian ordered our mouths shut, civil communication banned. Six of us in the study, not in the union, refused to cross picket lines. I was one of them.

The chief's gag order had, in effect, been long in place: he was only following orders. The man on management's side of the table was a power tripping fart of the old school: if war it must be, then war they will get. He had the university brass in the palm of his hand, telling them that almost any talk with union members could be seen as "undue influence," violating labour law.

They believed him: to the union's brilliant PR campaign, managers responded with silence. I didn't believe him. During the strike I spent most of my time at the Law Library, outside the picket lines, digging up evidence to prove that fart the fool he was. I did: it was, I found, in no way "against the law" -- as people had been taught to say -- for management "to express its views in a manner that is factual, well considered and non- coercive."

I wrote a report for the university president. He later wrote: "It was of great help to me, personally, since it is an area that I have been intending to investigate but have not found time to explore." Obviously. The vice provost wrote too, saying the one thing he learned in this mess "was that it was extremely important to ensure that the union knew exactly what we were going to do next."

I helped him out. The study team met with him often during the flap, sometimes with the president. I'd then trudge from Simcoe Hall, university HQ, through the snow of King's College Circle to my fellow workers on the picket line at Sci Med, telling them what I knew. One time I got a big cheer.

I was in the middle (as I often would be), doing not badly there. The strike lasted three weeks. Later I got a Status Change Form, bureaucratic paper used to notify staff of any shift in position or pay. It told me I had taken "7 days unpaid leave of absence for personal reasons." My fellow renegades got the same thing.

Seven days -- not even the full duration of our own wildcat strike. Kid glove treatment. Maybe they were learning. But maybe not: this story doesn't end until 1976. My loathing for ass covering "official" secrecy, for inhuman rigidity, for the smug abuse of petty bureaucratic power -- that, I can assure you, would never end at all.




I was on my own sort of picket line around that time. This was with Douglas Richardson again, among a host of others, trying to save another old building. It didn't quite have the cachet of Union Station: it was the old City Lunatic Asylum at 999 Queen Street West.

It had been progressive for a time, its time beginning in 1846; it remained the biggest work by the city's most famed architect of the early 19th century, John Howard. But the place had become a notorious horror: in local lore the very number "999" universally stood for the crazy house.

It wasn't an asylum any more, abandoned amidst a more modern version of the bin -- The Queen Street Mental Health Centre, its address whitewashed to 1001. Our hope was to have 999 renovated into offices. Architect Jack Diamond, working with us, had shown how it could be done.

On December 9, 1975, The Globe and Mail carried a big page 1 photo of a gang inside 999. We had broken in, occupied it -- an invasion rather genteel: the door had been cracked with a crowbar by alderman William Kilbourn. In that Globe photo one could find other aldermen (one alderwoman), a member of the Ontario legislature, and John Sewell, future mayor of the city.

We didn't stay long. As it turned out, neither did 999. Within a few months it was a parking lot. But it had been worth a try. And not a little fun, too.

November 1, 1975:

Paul keeps cornering me, which is good. We were discussing The Body Politic and I said that I'd like to see more emphasis on the cultural aspect of gayness. He said I should just do it, write a few articles from that point of view. This may be true.

There is more too it, of course: my politics don't always jive with Merv's, Eddie's, Herb's, Jerry's and Robert's, and that could become an issue. Nothing isn't political, after all, and the less humour one applies, the more intense the politics can become. But then I may be just making excuses.
By then I had come to know rather well that group of "isolated gayrads who do The Body Politic." I recall going to a movie in 1973 with Gerald Hannon (as he would later be called, "Jerry" only by old hand Herb Spiers) and Robert Trow. On New Year's Eve 1973 I had sat on the stairs of their collective house on Marchmount Road, Ed Jackson flirting with me (he even gave me a sweet peck) -- if perhaps with other than romantic intent: "Well, a published writer," he said, betting I might be recruited.
I wasn't, not then. My doubts about sharing their politics had come in part from having an argument with some of them at a 1974 screening of Montreal Main, Bozo Moyle and Frank Vitale there to take questions. The BP boys had been irritated by the film's ambiguities (there was a scene of Bozo and Frank diddling in their van, but Bozo had a girlfriend) and its apparent lack of resolve (Frank is clearly attracted to a young boy who seems to know what he wants, but Frank fails to deliver and abandons the kid).
I tended to see tentativeness and ambiguity -- even its celebration -- as Montreal Main's main point. And of course I was defending friends, Bozo in particular.
Paul didn't convince me to write for The Body Politic, but by December did get me down to 93 Carlton Street, its office then, to work on the Canadian Gay Archives. Founded by TBP collective member Ron Dayman in 1973 as the Canadian Gay Liberation Movement Archives, it had sat unattended since Ron left for Ottawa in 1974.
Ed Jackson adopted it, got it back in shape (and changed its name to broaden its scope), but he had other tasks too: a full time job; the rest of his life devoted to The Body Politic. In 1975 the Archives was just two filing cabinet drawers and a small shelf of books. A new gang had come along, Paul and I among them; we set to work getting things in order. In time we pooped out too.
The Archives would find its true deliverance in September 1976, in a man who looked fittingly like Moses. James Fraser's mad energy would turn that small collection into one of the world's richest treasuries of lesbian and gay history.
My work at the Archives was a toe in the water and I might have jumped in, but 1976 would bring developments to prevent that. Still, I had my entrée, tentative as it was. And enter I would, if not for a while yet.
Once I did I would find -- for nearly a decade -- that I no longer had to wonder what I wanted to do with my life.
---
Go on to 1976

Go back to: Contents page / My Home Page
This page: http://www.rbebout.com/bar/1975.htm
December 1999 / Last revised: June 1, 2007
Rick Bébout © 1999-2007 / rick@rbebout.com