Promiscuous
Affections
A Life in The Bar, 1969-2000


1977-1981
Going in every day
The Barracks bust
(More to come...)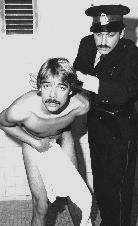 "Nice nuts"
(& nuts to the cops):
Alex Wilson & Keith Sly in a
photo set up by Gerald Hannon for TBP's Feb '79 issue, reporting the Dec 9, 1978 raid on The Barracks.
Baths raids & the RTPC
Documentation on both is in the CLGA. After later, bigger raids (see 1981) the Right to Privacy Committee became the city's hottest bed of gay activism, surviving to 1991. For a brief history see Remembering the RTPC in the CLGA site.


1979




Before we got to trial, other business demanded our attention. At 1:38 am, December 9, 1978, the police had raided The Barracks baths. With hammers and crowbars, 20 cops smashed into rooms, tore open lockers. Using only "necessary force" (as a PR flack later put it), they even kicked holes in walls.

They carted off 23 men, charged as "found-ins in a common bawdy house," three others, one of them George Hislop, as its "keepers." Two more were charged as keepers four days later. In a gesture not unfamiliar, the police also took The Barracks' membership list, putting some 800 other lives at potential risk.

It was hardly the first bath raid. Montreal police had busted three baths in early 1976, arresting 59 people in all -- part of the city's Olympic clean up, bringing out the biggest gay protest Canada had seen to date. In October 1977 they'd swept in again, with, as we saw by the end of that year, a surprising result: victory for gay rights in Quebec.

The Body Politic had reported baths raid going back to 1973, those not likely the first either. Nor would this one be the last: we would become endlessly familiar with the terms "bawdy house," "found-in" and "keeper."

But it was the first in Toronto to be met by substantial community resistance. Organizing began within hours, a mass meeting set for the 519 Church Street Community Centre two days later. More than 400 angry people showed up. The next Saturday another crowd, 400 again, marched on city hall.

In a later public meeting the December 9th Defence Fund was set up to support people charged and help pay their legal bills. That fund would become the RTPC, the Right to Privacy Committee, in time the biggest gay organization in the city.




Communal solidarity was not without its tensions. There had long been friction between gay militants and gay business types. Some bath owners resisted turning the raid into a political rallying point, but were reluctantly won over. In a later issue of TBP Ken Popert would accuse the business boys of trying to take over the gay movement, the RTPC their vehicle.

Others questioned making "privacy" the title issue. But under the later leadership of George Smith, very much a radical (and Tim McCaskell housemate), the RTPC would spur challenges to the legal definitions of "private" and "public" space.

The Body Politic gave the raid a two page spread in its February 1979 issue, the first out since late November, the previous one a two month double number. On the cover was a set up shot of Keith Sly dressed as a cop, manhandling Alex Wilson clutching a towel to his crotch.

Shots from that session got no little scrutiny around the office. About Alex in his nearly naked role, Keith was characteristically terse: "Nice nuts."
TBP's Trials
Act One, Scene One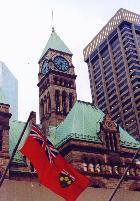 Appointment with destiny
(or is it with Roy McMurtry?): Old City Hall, site of TBP's Jan 1979 trial, the flag of Ontario (very much) in the foreground.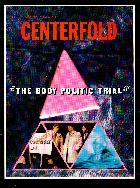 Centerfold:
Artists giving TBP's trial more complete coverage than even TBP itself did.

"You don't own me!"
Among a host of Queen St hands at the Jan 3 rally: The Clichettes.



Victory bash!
Val Edwards, Chris Bearchell & Konnie Reich (among others, top); Gerald Hannon; Glenn Schellenberg & Robert Trow. But we'd learn than one acquittal does not a victory make. All photos uncredited (CLGA).
TBP's Trials
Act One (& a half)
Vera Frankel, Tim Guest, Lisa Steele & Clive Robertson:
"The Body Politic Trial." Centerfold, Jan 1979. Massive coverage: pieces on each day in court; a review of the Jan 3 benefit; sharp analysis of media reporting, & an editorial.
The 3 vol transcript of the Jan '79 trial is in the CLGA, along with records of The Body Politic Free the Press Fund. Harris's Feb 14 judgment is there. It's also in Pornography & Censorship (David Copps & Susan Wendell, eds; Prometheus Books, 1983); & Canadian Criminal Cases (Canada Law Books, Ltd), v 45, pp 385 - 411.
Also in the CLGA are records of the case for return of material seized in Dec '77; a 1980 Appeal Book lists every item.
Our trial got more than three pages in that issue and many more in the mainstream media, the courtrooms and corridors of Old City Hall witness to a minor spectacle. Testimony had gone on for six days, few without their finer moments.

Prosecution witnesses Claire Hoy and evangelist Ken Campbell huddled together in the hall trying to avoid the gangs of gay people who had come to show support. Reverend Campbell on the stand, citing his respect for Socratic pedagogy, was asked by Clayton Ruby if he knew that Socrates had been a pedophile. "If he were to apply for a teaching job in Halton County," the good reverend replied, Halton his bailiwick, "he should certainly be refused."

Judge Sidney Harris once, with a small smile, clarified the term "use of the mails" in the charge: "That's spelled m-a-i-l-s." Crown prosecutor Jerome Wiley cast himself as a good old boy having no truck with dirty talk -- then used every bit he could. Questioning sociologist Thelma McCormack, a dignified lady, Wiley asked what she thought of our use of the term "bum fucking."

Her calm reply: "It took me years to figure out what buggery meant. I find the term bum fucking admirably clear."




But the most gripping spectacle came outside the courtroom. On the night of January 3, the trial's second day, a crowd gathered at the Faculty of Education Auditorium for yet another benefit bash. To a backdrop of The Body Politic's offending issue rolled up and bound in handcuffs, a raft of Queen Street artists appeared.

Lorraine Segato sang (her "Rise Up" pop anthem fame yet to come). Felix Partz and A A Bronson spoke to slides of isolated body parts, dissecting "the anatomy of censorship." Husband & wife performance duo Randy and Berneche indicted yellow journalism. Lisa Steele did a chain smoking welfare mom in pyjamas. Clive Robertson chanted found poetry uncovered in clippings from TBP.

The Clichettes, a four woman group famous for send ups of '60s "girl music" -- and for waiting tables on Queen West at The Parrot -- capped it all off with a raging version of "You Don't Own Me," pounding their fists on the floor.

The media were there in force, but that's not what they came to see and didn't, scooting out after the main event to chase down that evening's most famous performer: newly elected Toronto mayor John Sewell.

Sewell spoke in favour of legal protection for gay people in the provincial human rights code, and in support of the paper: "The trial now going on in regard to The Body Politic is seen by many as an attack on freedom of the press. I hope that my appearance here tonight can help ensure that an attack on the alternative press in Toronto will not be countenanced."

The crowd exploded. So did the city. A big sign later on a local furniture store summed up some of the reaction: "Congratulations MAYOR SEWAGE. Now we've got it straight."

Judge Harris's verdict came on February 14: Not guilty. That night we took over Buddy's in great celebration -- getting flak from one gay youth for picking a place where people under 19, the new legal drinking age, couldn't go.

In our victory issue (an early double number; we needed the break) we put "Men loving boys loving men" back in print -- "Now you can read it for yourself" -- along with "Another look" at consent, coercion, and questions of power between people of all ages, written by Chris Bearchell, Alex Wilson, and me. It was all a relief: after a year the trial finally on and over, its true issues still in play.

But it was not to last.




In early March I took off to spend time with Keith Sly and his boyfriend Bill Chesney in Niagara on the Lake, home of the Shaw Festival theatre where both were working then.

The town, usually full of tourists, was nearly empty out of season, cuddled up in snow. Bill and Keith were renting a place oddly named for that colonial burg (capital of the province until Governor Simcoe thought better of it, US cannon just across the river): Buckaroo Ranch. It had a big stone fireplace we curled up in front of, and in peace of a sort we'd not known for months.

There, on March 6, I got a sudden phone call: the attorney general had appealed our verdict. Acquittals can be challenged in Canada, even overturned. We'd make great play of the term "double jeopardy" -- but all that meant, Ken Popert said, was that we'd been watching too much American TV.

We were exhausted, and that now renewed case was not the only one before us. In early 1978 we had challenged the legality of the warrant used in the December 30 raid. That had gone through County Court -- we lost -- the Ontario Court of Appeal -- we lost again -- and finally to the Supreme Court of Canada: they refused to hear the case.




On April 11, the AG's office announced that none of the stuff seized in the raid would be coming back to us. They had introduced none of it in evidence at trial -- but said they would hang onto it for the next trial. It was the first time in Canadian history that the Crown had refused to return evidence after an acquittal. So that battle was on, too.

In September 1978 some things had trickled back: copies from our mail order service of The Joy of Gay Sex and The Joy of Lesbian Sex -- on sale all over the city and never under charge, but held for eight months.

In May 1979 more would arrive: 33 copies of another sex guide, Loving Man. Charges based on it had been dropped at trial. We put special bookplates inside each, detailing its travels, and sold them off for $25 apiece, the usual price $13.95, as a fundraiser.

The ad for them in the June issue was headed: "The porn squad would like you to have a few souvenirs." The photo showed all those copies pouring out of the mail bag in which they had arrived at the office -- on the very morning of the afternoon of the raid. "We can't think of a more fitting way to thank the boys for bringing them back."




It was in promo pieces like that, as I've noted, that we got to have some fun. So let me get into a bit of design play, my most constant play at the time. After the Crown's appeal I did an ad for the Free the Press Fund, a stern image of the attorney general over the line: "Isn't Roy McMurtry appealing?" (Inevitably, it got called "sexist.")

My subscription ad on the back of the February 1978 issue was headed in a fancy typeface: "Make Your Home a Bawdy House" -- with "Bawdy" crossed out by hand and "Body" written in. The text was full of bad puns on legal jargon, its conclusion offering just a few examples:
"So, in brief, we summon you to investigate The Body Politic. It's saucy, it's daring -- well, we think you'll get a charge out of it. Proceed with conviction. Subscribe."
In my most saucy line there I called the paper "one of the most sophisticated seven year olds in the business." A seven year old had figured briefly in "Men Loving Boys Loving Men" -- and rather often in court. At the time I wrote that ad, the verdict had yet to come in.
Years later I'd do a sub ad featuring Virginia Woolf, playing off every one of her titles I could squeeze in and trying to make the style hers: "Now, I own I'm not your common reader," it began. "I daresay, The Body Politic strikes me as a periodical of the first water." Almost no one got it; many didn't even know who she was. But I had a good time with it, very late one night as I recall.
David Gibson and Merv Walker had left in the fall of 1978, so I had free reign -- most of the time: I didn't get away with every zany bit I tried. But I was freer than I'd been before. In one of the first issues I worked on I tried to give a piece by British film critic Richard Dyer, called "It's being so camp as keeps us going," a title in a campy typeface.
"No, my dear," Gerald said. "It has to be Helvetica Extra Bold. That's the rules."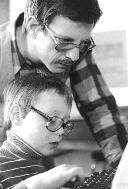 Gay dad; straight kid:
Well, not gay -- but hardly straight. Michael & Stefan Lynch, 1978. Photo: Gerald Hannon.
Stefan Lynch
Son of two gay parents (Michael coming out in the early '70s, Gail some years later), Stefan grew up surrounded by gay folks, at home (we had many meetings there) & at TBP. There, bored, he'd head off to find paper clips -- & link them all together. He'd later say his upbringing made him feel safe: "all these big people I could trust."
As a kid, Stefan used "straight" as an insult. Later he'd come out to his father -- as heterosexual. He commuted between Michael & Gail (he here, she in California; still close friends) learning all the way, later schooled at Simon's Rock, a US academy college level for kids not yet college age.
Stef inherited from his parents not sexual orientation but social activism. In the mid '90s he was director of the SF based COLAGE: Children of Lesbians & Gays Everywhere, retiring that post at the grand old age of 25.
You'll see more of Stefan in 1991: Jun - Dec. He's still in touch via the occasional e-mail.
Kirk Kelly's rules, very good ones I came to see -- even apart from saving on Letraset. But for David Gibson we were untrained designers; we might have gone off as people later did when desktop publishing first arrived, throwing dozens of funny faces across a page just because one could.

Kirk brought discipline. In the April 1978 issue I'd thought to use a band of grey to separate Michael Lynch and his son Stefan on the lead page of Michael's piece about being a gay father. Kirk snapped: "Grey is as dull as dogshit!" I ended up tearing a picture of Michael and Stefan in half, leaving the torn edges ragged. Much better. I was learning, as we all learned with Kirk.

In the fall of 1978 he'd redesigned TBP's format, turning it from a tabloid folded to roughly 9x12 inches into a big, flat magazine -- if still on newsprint -- and giving it its third logo. (You've seen the first two go by already, in illustrations.) By then Kirk trusted me, urging me to look for design ideas in other magazines, the Village Voice and Paris Match in particular.

So I played endlessly with typefaces, not all over and not more than a single key one in each issue, but setting a typographic theme that carried from the cover to feature articles to the lead review. It was how I had fun over the layout boards. I was later renowned for being able to say off the top of my head when a major piece had appeared: I remembered by typeface and, on the cover, by colour.

I loved production and design. It was so concrete: slog away for 10 nights and at the end I could hold what I'd done in my hand.




I wasn't alone in that work or the satisfaction it could offer. Production volunteers, lots of them, were the most consistent, long term unpaid workers at the paper. One of them Billy Sutherland had bounced in with one day, a new boyfriend and a lovely one: Michael Petty, from Winnipeg. He'd made contact with the paper before, writing a letter to the editor after we were raided:
"Though subscribing to TBP was a small step (and a tentative one, at that) along the road to coming out, I am pleased to discover that I am not at all intimidated by the fact that my name and address are included in the material seized. Indeed, I am more ready than ever to fight for freedom.

"Our freedom. My freedom."
Michael worked in production and in endless administrivia from early 1979 to late 1985. We once featured him in a volunteer recruitment ad, looking frazzled. "Can anything be done to save this man?" it read, going on to say he was so busy that he had time for sex only in elevators.
Mind you, there was that one time in the shipping room.
It was this year I think, though I'm not certain, that I paid a visit to Kirk Kelly in Montreal. Not the first or the last, but one particularly memorable. His design company there was doing well, Merv working with him by then.
Both their home and the business occupied vast spaces, former offices in a building on rue Notre Dame, just off Place d'Armes. I had a good time pulling books off Kirk's shelves, getting down some basics I'd later teach in workshops for small publications, called "Design on the Cheap."
But that wasn't my only fun. I went out one night, whether with Kirk or Merv I can't recall. I'm not even sure of the place I ended up; it may have been Limelight. I do recall a glittering dance floor and, standing by it right beside me, a very appealing boy.
I chatted him up. He seemed to like that. "What do you do?" I asked. "Go to school." "A CEGEP?" (the Quebec version of community college). "No! High school." His parents, divorced, didn't talk, so didn't know that on trips from mom's suburb to dad's their boy spent a day and a night downtown.
His name was Mark, a lovely kid, and willing. I took him back to rue Notre Dame. He was avid, unsubtle, all teeth in a blowjob -- and very likable. Taking a shower together the next day he got an erection, his cock substantial, beautifully formed. I slid down, deep on him, water splashing over us as his salt-sharp jets filled my throat. I rose (again) to a sweet boy's radiant grin.
I wondered what Merv and Kirk next door in the kitchen may have heard. Not that it would have mattered. We got dressed and joined them, Mark soon captivated by both. They got him to help with supper. He was quiet, attentive, as if studying the kind of life he might one day find.
I hope he did. I don't know: he left after that and I never saw him again.
For cops at The Hot Tub, bad timing: the RTPC meeting a block away; the bars still open. People rushed in from both; blockaded paddywagons had to drive off empty.
Tensions with the cops were already high. Now they ran ever higher.
Life went on much as usual this year for The Beep and its community: our pages were filled with stories of ongoing tension with the police.

One constable had called local school boards to inform on teachers who'd been arrested at The Barracks. In June one of them, now active in the RTPC, had his home raided. He was charged with keeping a common bawdy house: his own bedroom. On that visit police seized membership lists from the RTPC and the New Democratic Party Gay Caucus.

The police association newsletter published a piece called "The Homosexual Fad," written by a staff sergeant, going on about Mayor Sewell still and much more.
"Segments of our society suffering from homosexuality which calls itself 'homophile,' 'gays', 'fags' and 'fruits', etc.; provide us with a vivid example of how far we in Canada have gone down the 'road to debauchery.' ... Scientific studies show that militant predatory male homosexuality is nothing more than the behavior of over-crowded rats."
In that same issue were comments as complimentary about Blacks and Jews. The RTPC did a brief with 10 recommendations for the police commission, often packing its meetings. They got lukewarm response to two of their proposals, the rest ignored.
Across the country, the RCMP were raiding the homes of gay men with catch all search warrants, looking for pornography. TBP's July issue showed police cruisers set ablaze in the San Francisco riot after Dan White, assassin of gay supervisor Harvey Milk and mayor George Moscone, got a slap on the wrist sentence.
Inside, Michael Lynch suggested it was time to end the tame "Human Rights Decade," even with full human rights still little more than a dream. "One issue, in Canada," he wrote, "seems to me a candidate for another strategy: containment of totalitarian power, particularly that of the police."
In October the police would raid The Hot Tub Club, charging 40 men there but not getting to haul any off. An angry crowd of more than 100 rushed in -- from an RTPC meeting just two blocks away and, alerted by runners, from the bars. They heckled, blockaded the paddywagons, forcing them to drive off empty.
Tensions ran ever higher.
Win fame!
(If not fortune)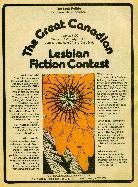 Looking for lesbian lit:
Promo in TBP for the Great Canadian Lesbian Fiction Contest (1st prize $100). Jane Rule's idea, it generated 40 stories; we ran five.
Below, non-winning winner Gay Bell, on the stoop at 48 Simpson (across from 43, where she & I lived; photo: me).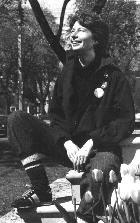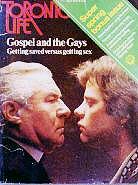 Gospel vs Gays:
Robin Hardy gets in the face of Godliness, Toronto Life, Apr '79.
May you live in interesting times. I'm told that's an ancient Chinese curse. But not everything interesting was a curse.

We got lots of unsolicited stuff from people wanting to write for The Beep. Most got returned, not with a rejection slip but a letter, often encouraging another try. One piece got not that but a request to its author, in Philadelphia, to let us run it right away (for free, of course: TBP never paid writers).

Scott Tucker's "Ivory towers and barricades: Why we need better books," a scathing look at Larry Kramer's Faggots and Andrew Holleran's Dancer From the Dance, ran as a big feature in the June issue. He'd have an even bigger one in November, on protests against the movie Cruising. Scott would write for TBP well into the '80s. In 1986 he'd be chosen Mr International Leather, perhaps the only anarcho-socialist ever to hold the title. (But then, maybe not.)

In that June issue there was also a big piece by Jane Rule. The well known novelist had been interviewed in TBP in 1975 and wrote frequently from then on -- but never so dramatically as this time. Her essay, "Teaching sexuality," was a cogent critique of the idea that children are not sexual beings. That article would have a surprisingly long (if oft ignored) life.

On that page a note told readers to watch for a regular column by Jane, to be called So's Your Grandmother. She said it was a form of support for the paper during its trials, maybe a year or two. It would run regularly until 1985.

In the May issue we'd run the first prize winner in The Great Canadian Lesbian Fiction Contest. The idea had been Jane's, first suggested to Michael Lynch in 1977. More than 40 manuscripts poured in; Jane and Quebec writer Marie-Claire Blais picked four winners. We'd run them all -- and even a story that didn't win. (But then, it was by our own Gay Bell.)




Robin Hardy got his face on Toronto Life this year, a cover showing him nose to nose with a bona fide fundamentalist minister. We ran a feature on gay life in "the best little country in the world," The Netherlands, written by two gay men there. Two other gay men wrote about getting busted in Toronto's Allan Gardens -- and getting off.

Jonathan Katz waxed poetic on gay history. Chris Bearchell did a big piece on the Michigan Women's Music Festival. Michael Lynch sang of the YMCA not long after The Village People had; the cover draw: "Gym dandies." Michael also dined out, praising "by products of liberation: gay eateries" -- reviewing Dudes, Crispin's and a new place on Church, Neighbours. RTPC activist and baker to the community Dennis Findlay accused him of "bourgeois bun pinching." Gerald Hannon went on for three pages about sex toys. We put a zucchini on the cover for that, saying it didn't quality; one store took the issue off the stands anyway.

Gary Ostrom gave us "Homos at War!" -- with a kilted division in "Gay Watch" tartan ("Fling, anyone?") and panic in the burbs: "Oh, no! The HOMOS are at the door! Quick! Get the plastic off the furniture!"

All this too made for interesting times. And on top of that I fell in love. Twice.




Gordon Bonnell was that boyfriend I found at The Bev in the summer of 1979. He was with Berenicci Hershorn, Randy Gledhill (true identities of that performance art pair Randy & Berneche), and Randy Coates, a doctor; his later contributions to community health would be huge.

All were from Winnipeg, as I would find Gordon was too. All I could tell at first, amidst the usual erotic ambiguity of The Bev, was that he was looking at me. And smiling. I joined their table.

Gordon was a sweet little chipmunk: short, compact, his hair salted with grey and his big moustache, too. A few years older than I, not a boy, he had a boyish appeal, his voice often wrapped in a laugh. Very soon we were seeing a lot of each other, enjoying times in bed and beyond.

He was an artist, a painter, but I didn't get to see much of his work. For money he took a job behind the bar at Buddy's. I saw him there often, sometimes very late: after closing the crew liked to sit with friends well into the wee hours. We sucked back brew from little brown "stubbies," then Canada's universal beer bottle. (Bars went briefly mad when long necked, brand specific ones arrived: they took more room in the coolers and had to be sorted for return.) I didn't always enjoy those nights: I wanted Gordon alone, for myself.

In September I got a note from Glenn Schellenberg, sending me the lyrics of a new song for his band. It was Present Tense then, later TBA; the song was "Bushman," inspired by The Barn. At the bottom Glenn had put a PS: "I want your boyfriend."




He got him. One day, spotting Gordon's contact lens solution atop my fridge, there for weeks, he never there to use it, I took it back to him, called him a shit -- yelling it from the street as my parting shot -- and stormed off.

Gerald later found me pounding my head against a wall at the office -- one of its rare stretches of drywall, the rest brick; I did choose well. Perhaps this was the time of that talismanic Valium; I don't recall for sure. But I got over it. By Christmas I was back at Gordon's, partying happily enough with him and Glenn.

In June 1980 Gordon would bring his power saw and butch skills to the office, helping me build a new meeting room and cover the single layer concrete block wall of our new west wing. More drywall, this time undented. (In the winter, wind seeped through that wall anyway; we often wore jackets indoors, even gloves.)

I saw Gordon years later at a bar here in town. He was visiting, from New York, where he'd started a successful design firm and found another new boyfriend. We had a nice chat; he was still his chipmunk self.

In late 1998 I would see Glenn again, by then a professor of psychology and music. Both of us had long lost touch with Gordon. But he did have news of him: he had died, some time after 1991; Glenn didn't know when, exactly. I'd known not at all.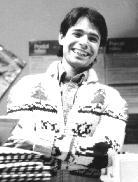 When not keeping
a common bawdy house
(as he'd later be charged): working with The Beep. Paul Aboud stuffs subs. Photo: me, Feb 1981.

Mikey's début:
Set up shot by Doug Durand for TBP, Mar 1980. But Mum & Dad didn't find out until August.
Our times together were great, but for Michael our times apart were a strain. It was a triangular affair: Mikey, Ricky, & The Body Politic.
On November 25 Robin Hardy dragged me off to a party. I was still down about Gordon then; Robin hoped to cheer me up. So off we went to Paul Aboud's place, shared with his lover Kim Krause on Beverley Street, not far from the office.

Paul had done cartoons for the paper since 1975, fresh out of high school and a cute little button. By now he was studying animation at Sheridan College in Oakville -- a place later to staff Toronto's booming animation industry, even the Disney studios.

Most of the people at his party were fellow students, just kids still. I noticed one in particular, a skinny boy with a mop of curly hair, a serious look. He was sitting across the room in a small crowd on the floor. I asked Paul about him.

"Oh," he said, "that's Michael. He's straight."

As it turned out, Michael Wade was more confused than straight. The party dragged into the night, people flaked out drunk on the floor. Paul and Kim tossed blankets over various lumps to let them sleep it off. One was Michael, with me: we got the same blanket. Soon we snuggled, kissed, had sex right there on the living room floor. One of his friends, awake for it though we didn't know, rather wondered about that later.

It was not Michael's first time. I would learn that he'd had a very messy affair with a young man in Hamilton, where Michael still lived with his parents when not in school. I took him off the next morning for a tour of the office, and then home to 43 Simpson. He would be at both places often, coming in on weekends from Oakville, later Hamilton, to be with me.

We fell madly in love. If I ever doubted his feelings I certainly wouldn't years later. I'd have all his journals: his weekdays in them, away from me, filled with endless longing.




Michael Wade (soon Mikey to me) was a boy. He had turned 19 only six weeks before. His mother sussed out our affair the next year, finding a card I'd sent him.

But by then that may have been gratuitous: Mikey had been on the cover of The Body Politic's March 1980 issue, in Polaroid shots on washroom busts, set up outside a can at the Eaton Centre. But I don't imagine his parents saw that.

Over that card, though, there were tearful scenes, fights with his father, much tension. But they didn't interfere. They might well have: the age of consent then for homosexual acts -- or more accurately, for buggery and gross indecency as allowed by law -- was 21. It would remain 21 until 1988, making criminals of us and many other lovers as well.

In time I would meet Mikey's parents. But, in 1979, that time was more than a decade away. For now, after an awful summer working in one of Hamilton's hellish steel mills, Michael would escape to Toronto. He got his own place at first but hated it. In the late autumn of 1980 he'd finally move in with me.




Our times together were great, but for Michael our times apart could be a strain. He would find I had another lover, our relationship a triangular one: Mikey, Ricky, and The Beep. Much as I loved Mikey, in the endless contests for my attention The Body Politic nearly always won.

"Another political widow," he'd sigh half in jest; there were not a few. He'd do what many of them did: give in, go to the office and become a Beeper himself.
---
Go on to 1980

Go back to: Contents page / My Home Page
This page: http://www.rbebout.com/bar/1979.htm
December 1999 / Last revised: June 18, 2003
Rick Bébout © 1999-2003 / rick@rbebout.com