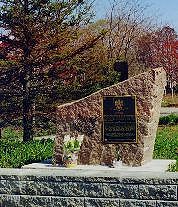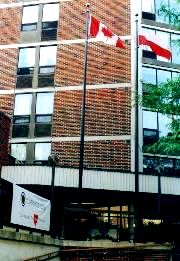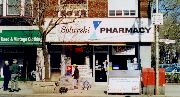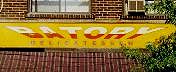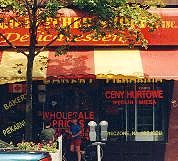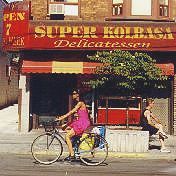 "Ethnic" fare; English lessons
Solarski's, delis; below Polish pop CDs & "Wonder Wheels" (of words: dial up irregular verbs) at Novum Multum, a music store at 129.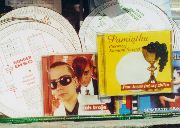 The smaller of the two monuments was put up in 1980 by the Alliance of Polish Eastern Provinces in Toronto. Its plaque goes on to say why:
"Dedicated to the memory of over one million seven hundred thousand Polish soldiers and civilians arrested in eastern Poland by the Soviet Secret Police (NKVD) in 1940 - 1941, for the only reason that they were Polish citizens and were deported to the far reaches of the Soviet Union (Siberia), where many were executed or died of hunger, cold, disease and exhaustion during World War Two."
A small plaque near the Katyn memorial, giving in English what appears in both Polish and English on the monolith's narrow sides, is dated 2000. Successive Soviet governments denied the massacre, blaming the Germans who found those graves in 1943. In 1992, the new Russian government confessed.
Those 4,000 were but a fraction of the 1,715,000 lives recalled at this one corner. All this in the east -- without the Nazis: one can ponder here the choices we make among horrors. But what I most ponder are bustling pedestrians, chancing upon this mute presence set amidst the urban buzz -- simply stopped.
Maybe long enough to discover these stories, to many of us unfamiliar; perhaps finding themselves caught, if maybe just for a moment, in the grip of the ineffable. Logic, reason, words: they all fail here. And they should.
Ah well: it was all long ago, far away; other times, other places. Other people. With that, it is time to see Roncesvalles.
Up past the Edgewater (successor to the Ocean House Hotel long at this crossroad, now a Days Inn), past a tracked lane curving into to the TTC's vast Roncesvalles Yards (where 157 streetcars spend the night: Pawlowski toured it), then a Goodwill store, we find another pair of flags.
Copernicus Lodge, a Polish senior citizens' home opened in 1979, was built as a community project, largely funded by local donations. Across from it, but for an older apartment block spawned by streetcars, small shops tucked into structures of just two or three stories hug the sidewalk along the east side.
They run nearly unbroken, but for side streets lined with big houses, all the way up to the avenue's merge with Dundas West (there running north -- confounding downtowners' sense of direction). Few point more than 20 feet to the sidewalk, the scene shifting with every few steps: hardware, gifts, groceries, bakeries -- and, famously, Polish delis.
The most lasting attachment of immigrants' later generations, ethnologists tell us, is to "ethnic" cuisine; wait long enough and it might be trendy. "On Saturdays the scent of pasties and sausage fills the streetcars," Dr Pawlowski wrote, if adding (to the likely chagrin of tourism's touters): "On Sundays, however, the fragrance of eau de cologne barely overpowers the smell of beer and high proof alcohol."
As on any urban stretch of aging structures, low rents, fine grain and changing rhythms, spaces here have seen shifting use. The old Brighton Theatre (at the top of this page, still with its tall sign) now holds a variety store.
Pawlowski used city records from 1913 to 1993 to track the fate of 19 addresses on the avenue. Garczynski Travel has been at 163 since 1989; in 1928 it housed a butcher, in 1939 a beauty salon still there in 1950, in 1971 High Park Children's Fashion. Solarski's Pharmacy has been at 149 since at least 1950, its space once Taylor's Cleaners, the McDonald Grocery and, in 1913, a real estate agency.
That agent of 1913 clearly knew the realtors' mantra: "location, location, location." The west side of Roncesvalles had long been empty but for cows: a dairy stood at 381 until 1948. Locals made their living selling milk and vegetables -- if soon finding more profit in land.
In 1913, a plot of just 50 by 124 feet could fetch $1,400 -- a price then rivalling Rosedale real estate. Parkdale was still "the floral suburb," soon full of fine houses. Many still stand facing the small shops on Roncesvalles's east from the more sedate west, evidence of a building boom lasting just 10 years -- creating a neighbourhood not quite Parkdale.
Floral still
Or leafy at least

Garden Ave (here in a temporary water pipe's playful spray), leading west from Roncesvalles to Indian Road & the vast green of High Park. Annexed to the City in 1888 -- making the avenue its boundary with the Town of Parkdale, independent until 1889 -- this area remains distinct. Developed in the same period as Rosedale, it shares the look: sloping streets (one sinuous: Indian Road follows a native trail), lots of trees, & substantial houses.

Similar streets run east off the avenue, Parkdale more prosperous north of Queen than south. If not so flush as Roncesvalles: incomes rise as one moves north & west; so does the number of residents apt to say (some with historical backing) that they live not in Parkdale but "near High Park."
At Garden Avenue, houses give way for a stretch of institutions common to most downtowns: churches, a library, a bank, and (across the street) a newspaper. St Casimir's, its cornerstone dated 1952, is the bastion of Polish Catholicism on Roncesvalles. But it was not Toronto's first Polish Catholic Church.
In 1911, after sharing space with the Irish and a chapel at St Michael's Cathedral, Polish congregants created their own parish, St Stanislaus of Kostka, in a former Presbyterian church on Denison Avenue near Bathurst and Queen. By 1915 Our Lady of Czestochowa rose near Davenport Road west of The Junction -- a railway crossroad marked by industry and the many immigrants it employed, Poles not alone among them. St Stanislaus sat just north of Niagara, another enclave of industrial workers mostly not Anglo or Scot.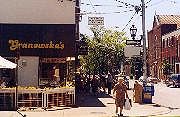 St Casimir's neighbourhood
Polish parish, above right, seen past Granowska's pastry patio. Below: St Vincent de Paul; Gazeta's office at 215, reflecting Emanuel Howard Park United across the way.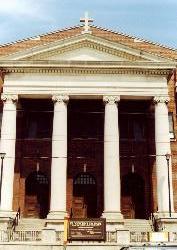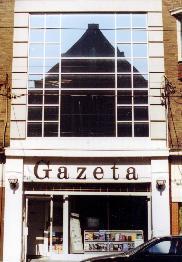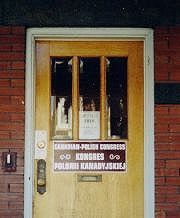 House of Congress
Kongres Polonii Kanadyjskiej, 288 Roncesvalles.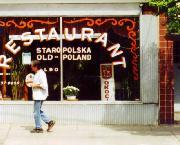 Old Poland,
new Roncesvalles
Staropolska, at 299; just north: fine home furnishings at renaissant; Alternative Grounds' globally conscious "fair trade" coffee, & elegant dining at Domani.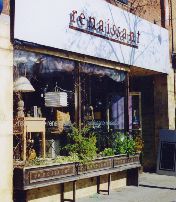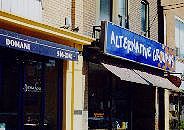 Those early churches no longer mark neighbourhoods visibly Polish. St Casimir's still does. Just north, in sweeping white '70s modern stands that bank, once in its basement and distinctly Polish: the St Stanislaus St Casimir Credit Union -- the biggest financial institution born of a church in all of North America.

Credit unions were among the many cooperative means of mutual support created by Poles under Prussian occupation, fending off German Kulturkamf. The roots of resistance in Polish faith are, here, proudly marked.
Pope of Roncesvalles
(& well beyond)

John Paul II blesses the street outside the credit union, here since his Papal tour of Sept 1984. He'd been to Canada before as Karol Cardinal Wojtyla, visiting many Polish communities, coming again in July 2002. In this likeness (funded by local donors, among them the Toronto & Ontario governments), he has a special twinkle: look into his eyes & you'll find pupils carved as tiny hearts.
There was a Polish Lutheran church in Toronto by 1954, if not nearby; there are (as MP Jesse Flis noted) other churches along Roncesvalles. The United makes its stand at Emanuel Howard Park, right next to the Toronto Public Library's High Park branch, twin to one far east, there marked "Beaches."
St Vincent de Paul looms not far north, there by 1915 if long since left by most Polish Catholics for their own parish, despite Our Lady of Czestochowa painted in one of its portals. From 1985, Pawlowski tells us, it has ministered to "native Indians, emigrants from South America, and to all hungry and poor people."
The neighbourhood, like many in Toronto, has long had local papers. How well they served shifting communities may be suggested by a West Toronto Weekly headline of October 19, 1939, recorded by Pawlowski: "Circus will go on despite war problems" -- Shriners bigger news than Nazis, even with Poland gone just three weeks before. He notes 390 Roncesvalles as home to the newspaper Glos Polski in 1989 and 1993. The address now houses a nice restaurant.
Gazeta, at 215, had been publishing for 14 years, three times a week when he wrote, now five. Their office has a bookstore offering "valuable selections on the arts and language and many recent translations from English published in Poland."
Newspapers and churches were not the first institutions founded by Poles in Canada. Like most immigrants, their first source of mutual support was, simply, each other -- coming together largely without formal credentials, official permission, or material resources beyong their own skills and desires.
An Association of Polish Citizens formed in the 1870s didn't last. Some likely left for the USA: Canada was seen by many immigrants as a way station on the road to fabled America. The Sons of Poland, granted a charter in 1908, soon gave birth to the first major Slavic organization in Canada, the Polish Alliance Association.
Like many such groups, its aim was "the economic and moral betterment" of its members, to make them good citizens in Canada. At the same time it hoped to "celebrate important anniversaries of historical events in Poland" and "uphold the Catholic religion." In time, "Catholic" was dropped for "Christian," a bid for "tolerance, brotherhood and enlightenment" among all (well, most) Poles.
In 1934 the Alliance refused to swear loyalty to the Polish government, then right wing; it would later keep its distance from governments of the left, rousing the ire of Polish Communists in Canada. The Polish National Union, born in 1937 of a veterans' mutual aid society, was more vocally nationalist, conservative, and anti- Communist. The biggest Polish cultural centre in Toronto is not on Roncesvalles but far east on Beverley Street: The Polish Combatants Hall.
History has eased some (if not all) of these tensions. The Canadian Polish Congress, its headquarters at 288 Roncesvalles, represents more than 160 groups across the country, their members hardly homogeneous in politics if not forgetful of their common roots.
Poles are not alone in having a history worthy of memory -- even as all of us are urged to leave our messy histories behind for cheery fests of "ethnic heritage." They share with other migrant communities a sense of meaningful connection with communities elsewhere in the world, even as they make a world here.
It made sense to raise Polish Canadian regiments to fight the Nazis. It's no big surprise that among the candidates in Poland's 1990 presidential campaign was a Polish émigré from Canada (if even less surprising that businessman Stanislaw Tyminski lost to Lech Walesa). No more than it's odd to find Poles sitting in the Parliament of Canada or on Toronto City Council. It means simply that they are citizens; that, to them, the world matters.
Locations called "charming" by real estate agents often risk being turned into parodies of themselves. The place becomes a "place," its "charm" and "character" made marketable commodities.
Roncesvalles shows signs of creeping gentrification: restaurants aiming at chic; shops verging on twee; an elegant storefront backed by "fine home furnishings," a place for the politically aware to buy coffee beans not ripped off from their growers (a great idea, for those who can afford it), even a place catering to that cherished acquisition of the upscale childless couple: the pampered pooch.
It is in the nature of urban neighbourhoods to change: buildings put to new uses can pay their way, derelicts are doomed to fall. Streets need people living, as well as shopping, on them. And "nice" does look better than seedy. Few of us notice the shifting mix of people behind the façades of rising prosperity, higher rents, and "quality" goods a bit more expensive -- unless we're merchants, real estate agents, a single parent earning minimum wage, or an artist looking for a big cheap loft.
Near the top of Roncesvalles we get the ultimate sign of this shift: a new condo complex. Its units are, for cachet, called "lofts." Few are big, none cheap.
| | |
| --- | --- |
| | High Park Lofts: Church & former parish hall turned market, left, set to fall for condos starting at $189,000, two bedroom units $299,900. Penthouse suites go for $399,900 & up. |
"And now for something completely different," its promo says. Not entirely -- but as condos go this is an inventive project. The key force behind it, "Condo King" Harry Stinson, ever is. His downtown 5 King West, stacking 51 floors on a tiny lot next to a grand bank of 1913, is now 1 King West: it consumed the bank, if saving some interiors as well as its skin -- façadomy more graceful than most.
Here the old church and hall were to be saved in part, wrapped in a new structure. Now they're to go entirely, for the "completely different" imitating some of their details -- offering "the best of both worlds: the architectural character and internal charm of a loft conversion, though the building is totally new and thus covered by the Ontario New Home Warranty Program." Inventive indeed.
So are the units. And those prices aren't bad: the average selling price of a house in the area is $269,000 (likely getting you three or four bedrooms -- but lofts aren't much meant for kids). Harry's promo does of course tout "location" -- if without resorting to "charm," even with some wit: it notes not only "a traditional hardware store with real live staff who actually know where to find things," but the nabe's more recent "obligatory brand-name coffee shops."
But other selling points may be telling: "Parkside Drive provides quick access to the Gardiner [Expressway]. A streetcar goes from the front door directly to King & Bay." In the Toronto Life Real Estate Guide "driving distance to King & Bay," Toronto's financial heart, is among the criteria used to rank the desirability of neighbourhoods. A nice place to live maybe -- but you work in the real world.
Ah well: the congregants of Igreja do Reino de Deu / Iglesia del Reino de Dios had long decamped, and the site will be nicely repopulated. If likely not by the sort of people it long knew. Still, Roncesvalles may put up roadblocks to rampant gentrification. Not barricades on the street, certainly, but bulwarks of the spirit.
"Polishness" is not ripe for chic parody (if too familiar with ruder sorts). Its cuisine is too high in fat for the latest trends. Its culture, also rich, is rarely promoted as "glamorous" or "titillating." Its character is too resistant (Poles have had lots of practice), its history too fraught. "God's Playground," even in local franchise, is likely more than mere tourists might have bargained for.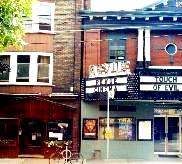 For a very long time, all I knew of Roncesvalles was the Revue Cinema. In the early '70s with friends living along Spadina, I'd take the College car west, get off just before Howard Park Avenue and head for a flick. The Revue featured repertory, not Hollywood first runs. It still does.

I don't recall ever heading down the avenue, but maybe for a peek into the Café May just next door. We were downtown boys, still loosely Sixties in style, and gay. Roncesvalles was Terra Incognita: "Here Be Dragons." Poles anyway; we didn't anticipate a warm welcome. Nor that, in time, Poles would host regular fests in Toronto's best known gay bar.

Ethnologists speak of immigrants' "mental maps," their working plan of "home." Lands far off are finely detailed, local streets too and key sites beyond: church, work, meeting places, safe hangouts. But neighbourhoods just a few blocks away might, on that map, be blank.

We all have such maps. At some time, in some places, each of us is new in town. Even from familiar streets we may spot a looming presence -- an apartment block, a factory, a church steeple marking a place we've never had occasion to go -- and see it as if across the Berlin Wall: another place. A strange place. Not quite here.

"There are no architectural landmarks on Roncesvalles," Andrew Pawlowski wrote, "significant enough to find their way into an international tourist guide." None of its "fine restaurants" is truly famous; it has no hot night clubs; it is rarely noted in Toronto's insistent self promotion. On the mental maps of many in this town, it is a place not here.




It was not until the late winter of 2000, visiting one of those Spadina friends who'd opened a gallery in Parkdale, that I took a walk up Roncesvalles. Just a whim: I knew it would take me to the College car, and home.

It was on that walk, and that streetcar ride, that I first thought to carefully ponder streets. Good urban streets: varied, human in scale, rhythmic with life. I have made Queen Street my focus, for its length, its history, and its many stories. But for my inspiration, I have to thanks Roncesvalles.

It felt right. And it still feels real.



---
* Note: My browser program can create some of the diacritical marks required for proper Polish orthography (eg: Kraków), but not all of them. So I have, regretfully, left them all out.

See more on:
Canadians as "children of the debris of history," in Losers -- Who sometimes win.

The Rebels' Monument at Mackenzie House, in Streets of faith, a Downtown side tour.

A neighbourhood too ripe for parody -- as a gay theme park -- in the chapter of Promiscuous Affections called Citizenship: In the city and on the street. Look for "Rainbow country!"

Sources (& images) for this page: Alan Bullock: Hitler: A Study in Tyranny, Penguin, 1952. Pierre Ayçoberry: The Nazi Question: An Essay on the Interpretations of National Socialism (1922 - 1975), Pantheon Books, 1981. William Makowski: The Polish People in Canada: A Visual History, Tundra Books, 1987. Lubomyr Luciuk & Stella Hrynuik (eds): Canada's Ukrainians: Negotiating an Identity, University of Toronto Press (with the Ukrainian Canadian Centennial Committee), 1991. Andrew Pawlowski: The Saga of Roncesvalles (translated from Polish by Anna Porczynski), self- published, 1993. James S Pula: Thaddeus Kosciuszko: The Purest Son of Liberty, Hippocrene Books, 1999 ("Kosciuszko at West Point"). Chris Wattie: "Historian trains sights on 'Alamo of the North'" (review of Guns Across the River: The Battle of the Windmill, 1838 by Donald E Graves), The Globe & Mail, Aug 11, 2001. Jerzy Kondracki, Andrew Hutchinson Dawson, & Norman Davies (author of God's Playground: A History of Poland): "Poland: Cultural Life"; Piotr S Wandycz & Kryzstof Jasiewicz: "Poland: History," in Encyclopedia Britannica, 2002. Gazeta (by phone, April 2002).
---
Go back to:
Passing stories
Queen Street Preview / Introduction
Or to: My home page
This page: http://www.rbebout.com/queen/parkdale/2pronc.htm
April 2002 / Last revised: November 13, 2002
Rick Bébout © 2002 / rick@rbebout.com