Promiscuous
Affections
A Life in The Bar, 1969-2000


1973-1976
Times between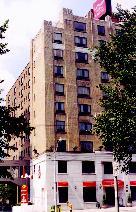 Brown Cows, dress codes,
an odd landlord:
The last new gay spot we'd see for a while. 300 Jarvis St, now a Ramada Inn, once The Carriage House.
A gay manager talked the owners, losing money, into a club for his kind of people. Thus did a top realty firm come to run the hottest gay spot in town.
"I Enjoy Being a Dyke"

"Public disturbance":
Adrienne Potts, Pat Murphy, Sue Wells & Heather Byers (aka Heather Elizabeth), turfed from The Brunswick Tavern Jan 5, 1974. Photo uncredited (CLGA).
The Brunswick Four
The Brunswick crowd enjoyed the gang's amateur night dyke ditty, but the manager pulled the plug & told them to leave. They refused, hauled off by eight cops -- called in to quell a "lesbian riot." They spent a few hours at 14 Division, verbally & physically abused ("You fucking hosebag, I bet you drive a tugboat").
Released, they went back to the tavern to find witnesses, three of them -- becoming "The Brunswick Four (minus one)" -- charged with creating a public disturbance.
They did: the case got major play, rousing the community & likely giving the term "lesbian feminist" its mass media début. It came to trial in May, Judy LaMarsh acting for the defence (waiving her fee; she'd later be a federal cabinet minister). Pat & Heather were acquitted; Sue never charged; Adrienne convicted & given 3 months' probation.
Pat Murphy, former nun, had been a driving force at CHAT ("second only to George Hislop," Peter Zorzi wrote,"& some would reverse that order") -- until most women left the group in 1973, their parting shot "The Cunt Statement." Pat died in 2003.
For more on these women (& others you'll meet here), see Becki Ross's The House That Jill Built: A Lesbian Nation in Formation (University of Toronto Press, 1995), a history of LOOT, the Lesbian Organization of Toronto, 1976-80. A review, Lesbian Feminism in Its Prime, is on the CLGA site.


1974




In 1971, my journal had filled three 59 cent Hilroy spiral binders, more than 150 pages of cramped handwriting. This year there would be just 17, most typed, some double spaced. The impulse to record was passing. It would fade further over the next few years, gone by 1978 when I made just one entry, a single page. So, yet again, I am forced back almost entirely on memory.

I'm sure I was still going out. The Parkside shows up in those 17 pages, near the end of the year; I can't imagine I stayed away until then. But, along with many others, I had also found a new place, the first gay spot to open in many years. I had told a friend about it not long before this year began.
Letter to Greg Spurgeon, Sunday, November 23, 1973:

The "scene" has improved considerably in the past two weeks with the opening of a new bar at The Carriage House Hotel. There are actually three parts to the thing: two downstairs tap rooms and an upstairs lounge, which is very poshly comfortable and includes a dance floor. The need for such a new place to compete for our attention with the filthy Parkside is shown by the fact that it has been jammed almost since it opened.

I have been a number of times and quite enjoy it: only last night I was there dancing with Alvyn when he stepped on the open toed wedgie clad foot of Mimi Hines, who was there bouncing away beside us -- that is, before she was trod upon: ah, but she took it well and continued swinging her beads with the rest of us.
Greg Spurgeon, from Saskatoon, had worked at the library in late 1971. We had a brief and unsuccessful affair but, through letters, did stay in touch. I would visit him for a day in Saskatoon this year and later see him in Ottawa, involved in gay activism there.
The Carriage House was at 300 Jarvis Street, built in 1930 as the Frontenac Arms, an upscale apartment house. At 10 Art Deco clad storeys, it was one of the few highrise residential buildings of its time. Clearly not a good time: it failed to attract tenants and became a rundown hotel. In the early '70s it was bought by J V Franciotti Realty, planning to tear it down for a big development. But a later bylaw limiting new construction to a height of 45 feet (the city trying to rein in rampant growth and preserve old buildings) squashed the project.
The hotel was losing money and Franciotti was open to new ideas. The hotel's manager was gay and suggested opening the place to his kind of people. So it was, and would be 'til 1978, that one of Toronto's top property management firms found itself owner of the hottest gay venue in town.
I best remember three things about The Carriage House: plush brown sofas, Brown Cows (Kahlua and cream; so chic then), and a flap about women in jeans. This was code for lesbians of a certain style, often unwelcome in places affecting a high tone -- and even in a few that did not.
In January 1974 the Brunswick Tavern, certainly not chic, had evicted four women after two regaled the amateur night crowd with a rousing revision of "I Enjoy Being a Girl" -- for "girl" they sang "dyke." In the ensuing uproar they were arrested, going on to local fame as "The Brunswick Four."
Nothing like that went on at The Carriage House. But later in the year it barred women entirely from its downstairs tap rooms and allowed them in the lounge upstairs only if "appropriately attired." Even men in T shirts were briefly banned from the lounge: the manager wanted to "dress it up." If he got "hassled" for this, he said, he would insist that women in the lounge wear dresses.
In late 1974 The Body Politic criticized The Carriage House for its treatment of women, saying the bar would no longer be welcome among the paper's (very small) cast of advertisers. How this mess got resolved I don't recall, but it was likely in the usual way: "dressed up" tended to go "dressed down," managers turning a blind eye as long as the money kept rolling in.
I would also trek off to visit Alvyn this year. In the summer he had moved to Morrisburg, Ontario, one of many small towns that had been mostly drowned to swell the St Lawrence River for hydroelectric developments and the huge new Seaway in the mid 1950s.
Alvyn worked at Upper Canada Village, a quaint reconstruction of the area's history, some of its buildings dragged from their original sites, saved from the flood. A few remnants of real history remained, under water, the old townsites mostly bog, their new "downtowns" now malls on a highway to the north. Alvyn became an expert on "The Lost Villages of the St Lawrence," doing an exhibit at Upper Canada Village and a 1977 article in The Canadian magazine.
That year Alvyn would settle in the area, buying a disused Wesleyan Methodist Church dating from 1828, in Greenbush, north of Brockville. One of only 400 souls there, he would import entertainment: his annual "Greenbush Festival" briefly gave the town a considerable gay population. I went two or three times as I recall, but apart from that I rarely saw Alvyn again, my last extended time with him on a trip to England in 1975.
Alvyn would later write a history of his new locale. He's since been back in Toronto and environs, as a university teacher. I run into him just occasionally. He looks fine, his great grey mane more modest, though, and white.
This year seemed all trips. It was in January that Rob and I made that visit to Alvyn's brother Norman in LA. I read Reyner Banham's Los Angeles: The Architecture of Four Ecologies, to prepare myself; with that background I quite enjoyed the week we had there.
One wasn't supposed to, of course, LA the most detested city on earth -- if you could call that huge messy sprawl a city. Angelenos were well aware of this reputation, but we met some also sharp enough to see the unheralded qualities of the place.
Norman lived on a winding road up in the Hollywood Hills, "The Foothills" one of Banham's ecologies. The site offered a great view of another, "The Plains of Id," that vast expanse of the Los Angeles Basin running as far as the eye could see. Banham's other two were "Surfurbia," of which we saw little, and "Autopia" -- unavoidable if oddly wondrous. We met a Mexican friend of Norman's who would take even native Angelenos on tours of the freeways, explaining their history.
Ever since, perhaps before, I have admired people who deeply know and love the place where they live, who are not fooled by mere "beauty" meant for tourists.
Rob and I also walked (yes walked, making rather a spectacle of ourselves) to the LA County Museum and along the stretch of tack that Hollywood Boulevard was by then. We flirted with cute waiters at Denny's and even went off to see movies the likes of which we couldn't see in Toronto, The Devil in Miss Jones and another porn flick actually a comedy and not a bad one. We hit one or two gay spots and were unimpressed.
San Francisco impressed us even less, a week spent there on our way home. Some Angelenos we'd met coyly called that city up the coast "Disneyland North." People in LA at least knew their city was fake -- in fact the original fake, created out of a desert by flatlanders pouring in from all over the vast reaches of the American South and West.
The City by the Bay looked like what it historically was: an eastern burg dragged around Cape Horn and plugged into the California coast by sea. With its gussy Beaux Arts civic centre and all those cute, overdressed "Victorian" houses (Victorian? They survived the 1906 earthquake?), it seemed not so much a place as a "place," intensely self conscious, contrived: a giant birthday cake.
But one taken quite seriously: San Francisco was (ask anyone there) the centre of the universe. We stayed with a friend of Rob's too eager to tour us around. Rob soon laid down the law: "Listen, Richard, I'm not your mother. This isn't Gracie you're dealing with." We hit a few gay spots, only one I recall, for its mad stage show by comic Michael Greer.
Back home, coming through the airport and on the subway back downtown, both Rob and I noted many gorgeous boys -- more, we said, than we had seen in all of the previous two weeks. And this in grim old Hogtown, Toronto another city rarely noted for its finer qualities.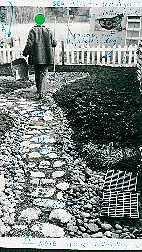 Rural bliss; nuke neighbours:
A card sent by John Taylor, roughing it near Comox BC in 1974, annotated to show such features as "compost," "seaweed for fertilizer" & "primitive fence." The man with the rake ("Exhibit A") may be John or Bill, that green dot for a head one of their usual stickers.
Bill & John were convinced, as not a few were then, that urban life & perhaps civilization itself were facing collapse.
I preferred Frank O'Hara's take, from "Meditations in an Emergency" -- "I can't even enjoy a blade of grass unless I know there's a subway handy, or a record store or some other sign that people do not totally regret life."
On one day that summer, I can't remember when exactly, I boarded The Canadian and headed west. This train was renowned for its elegance (now long gone), many American tourists lured to it by the promise of the Rockies -- but first having to put up with the endless rocks, water, and trees north of Lake Superior and the vast, flat reach of the Prairies.

I loved it all. I'd seen this stretch of Canada once before from the air, cloudless all the way, the shift of those different ecologies surprisingly sudden. But I'd never seen it up close, and with this trip I would have seen it all, at least from New Brunswick to Vancouver Island. (It would take me until 1990 to include Nova Scotia and Newfoundland; I still haven't made it to Prince Edward Island or the Territories.)

Besides, I loved trains, not to mention the occasional fellow passenger. The first stop was Alliston, north of Toronto, where a lovely boy got on. I was sharing a set of four berths, two women across the aisle and now this sweet kid over my head. He was 16, he told me, on his way to Calgary to see his parents. He pulled out a map to show me exactly where in Calgary, both of us hunched by then up on his berth, he in his pyjamas. He made me wish I were going on to Calgary.

But my first stop was Winnipeg. Up in the dome car approaching the lights of that city (once Canada's third biggest, Beaux Arts there quite fine, preserved in amber by slow economic decline), an American couple behind me speculated on its population. "Oh, about 50,000, I guess." I turned.

"Winnipeg? Half a million." I must have seemed a pompous chauvinist.




I stayed with Terry Thomas and Craig Sterling for three days, their little house neat as a pin, their life quite domestic. But there was Terry's RWB studio tour too, his fabulous tap routine, many good walks and much talk.

This was also when I had dinner with Dan: once of the library, still gorgeous; a night of romance so odd and hesitant we might have looked new lovers (but alas were not). From there I spent 10 overnight hours in a regular coach seat, on to Saskatoon to visit Greg. And then, in a roomette, it was over the Rockies -- by night on this run, alas. In all it was 75 hours of rail time from Toronto to Vancouver.

I had more travel ahead before my final destination: a ferry to Victoria; a two car Budd train up Vancouver Island; then a bus, to Comox. John Taylor and Bill Rowe were there, continuing their rural sojourns convinced, as not a few were then, that urban life and perhaps civilization itself were facing collapse. Such were the times, hippie back to the land stuff not quite a spent force.

I was more inclined to Frank O'Hara's view, in "Meditations in an Emergency" -- "I can't even enjoy a blade of grass unless I know there's a subway handy, or a record store or some other sign that people do not totally regret life."

In any case, Bill and John had found a rather odd place of escape: from their cabin one could hear the roar of jet engines, Canadian Forces Base Comox nearby -- one of only two places in Canada where nuclear weapons were stored. Later they would be back in New Brunswick, within sight of the Dorchester Penitentiary.

But we had a fine time, roaming great stands of Douglas fir and Western red cedar, once logged I think but not clear cut: there were huge stumps scattered amidst the lush undergrowth, dim under the forest canopy. It was a magical place. John took pictures; in one my arms are flung out wide.

Bill later augmented that shot, with a spray of glitter -- as if I were casting a bit of ghetto glamour into the wilderness.
Ottawa boys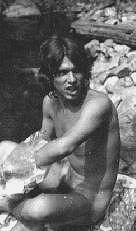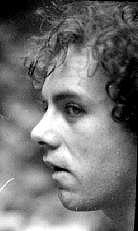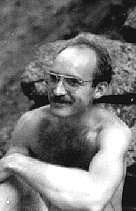 Skinny dipping where
Brian Mulroney would later
"roll the dice." Jacques (top), Bill & Philip at Meech Lake, Aug 1975 -- still just a lake, not a constitutional (dis)accord.
Back home, work got stressful. But my problem wasn't just stress. It was meaning -- or lack of it. I tried writing a novel -- every word writhing in visible agony at its birth.
Virginia Woolf was right: Never publish before you're 30.
And I must have made a few trips to Ottawa this year. I noted one in December but I'm sure it wasn't the first. Alvyn and I (and later Bill and John and Terry and Craig) had friends there.

One I'd first met in late 1971 at Toronto's Central Reference Library. Jacques Naud was very handsome, with dark hair and bright eyes, and very helpful in setting up a microfilm reader so I could find old newspaper stories on Union Station. In Ottawa he worked for the National Gallery of Canada.

His lover Bill was a historian, his special interest Canada's role in World War Two. I loved pulling books off his shelves, all kinds of Canadian history there, and snuggling down for a read in their huge, comfortable apartment. It was on the third floor of a place at McLaren and Elgin, fronted by a stack of porches. There was ample room for guests; Bill and Jacques, genial and relaxed, hosted many. Philip Hartwick was among them, if living in Ottawa; later on he'd be in Toronto.

Most of their local friends were civil servants, their gay lives mostly a matter of house parties and dinners. Ottawa's more public scene was barely developed, the best known gay bar The Coral Reef -- perhaps best judged by its nickname: The Oral Grief. I don't think I was ever there.

I was certainly out at the LE with the boys, the basement bar at the Lord Elgin Hotel, and the usual scene for a hotel homo hangout: a men's tap room. It was mostly gay by this time, but the waiters would still kick you out if they caught you kissing a friend. There was a nice book lined lounge off the main lobby upstairs, also a regular haunt, pleasantly sedate.




It was more fun to go to Hull, across the Ottawa River in Quebec. Bars there stayed open later than on the Ontario side. The Chez Henri was a favourite spot, a sort of Parkside with more joie de vivre -- or as Alvyn liked to say, "a certain je ne sais queers." My best memory of the place is a quietly delicious little man named Ghislane, who took me home one night.

We also spent time across the river in the Gatineau Hills, for tea at Kingsmere, summer retreat of our longest serving and most bizarre prime minister, William Lyon Mackenzie King. Through mystics he had consulted his dead mother and later his dead dog for guidance in governing this odd country. His most noted line (likely apocryphal): "Do nothing by half that can be done by quarters." We'd later go skinny dipping at Meech Lake, long before that name stood for a constitutional crisis kicked up by a later prime minister who might well have heeded that line.

Ottawa always struck me as the quintessential Canadian city, apt for the nation's capital; having a very English tea in French Quebec brought that home. Toronto by comparison could seem almost American -- though it resolutely was not.




Back in Toronto, things weren't going well. I was swamped at work; I had no other life. The job often seemed pointless, not what I wanted to do, its tedium greater for that. But what did I want to do? I had no real idea.

I started a novel in September, based of course on myself. There, my self was in love, the model for that lover Dan, our Winnipeg dinner and an odd exchange of letters after that a fresh memory. I wrote only one scene, about waking up one morning with him. I laboured over every word and it showed, each writhing on the page in visible agony at its birth. It was awful. I gave it up.

But two lessons did come of it. First, Virginia Woolf was right when she said: Never publish before the age of 30.

The other was more personal, one I wouldn't figure out for years, looking back on that abandoned mess: the imaginary relationship I had cast would be the model for some of my real ones. There was "Andy" on the page, ever stepping back, giving space, thinking he (that is, I) needed almost nothing from a lover. And when that need finally came out, the lover would flee.

It wasn't always like that in real life. I was no saint. But it was instructive to see that I had set those patterns, in fiction anyway, at the age of 24 -- nearly two years before I even met the first man I would call my "lover."

At work I was caught up in committees, most for the Management Review and Analysis Program, set to last a year. I was one of just eight people on a team running a study of the whole 700 employee $10 million annual budget monolith -- on top of our regular work. I got more than a bit stressed.

Over the Canadian Thanksgiving weekend I relished the prospect of sloth: I slept in late, read; peace and quiet at last. Instead I got John and Bill, in town for a short stopover and needing a place to stay. My two rooms harboured the three of us (and much rural crabbing on the horrors of urban chaos) until I had to plod back to work on Tuesday.




I soon found functions switching off,

involuntarily. Trying to write I saw I couldn't -- literally: a few shaky marks all my hand could manage. I felt tears waiting to come, just below the eyelids. My job became a zombie wander from one thing to the next, none of which I could bear to face.

I saw a doctor, young and relaxed; we talked. "I don't think," he said, "that the problem is physical." It wasn't anything I hadn't expected to hear. Still, it was frightening to find myself coming apart under the strain of things I wanted to believe I could handle. I left his office with a prescription: 30 5-mg tablets of diazepam. Good old Valium.

In five days I took three, resentfully. But what the hell, I said to myself (not for nothing was it called "the housewife's drug": life is shit; so what?) -- let's lay off the moral imperatives about strength and coping and, as a friend's mother once told her, just take a pill and get over it.

I don't think I took all 30, though I might have. I'd do that mind numbing pacifier again just once, in another hard time. A friend would give me a few in a vial I set up in my work space: I called them the talismanic Valium. I took maybe one or two then, and that was it.

I would also handle that big management study better than I'd suspected. It became the one interesting part of my job, learning things that would shape my sense of workplace justice for the rest of my life. But that would come in 1975, so I'll leave it until then.
Terry sat in his dressing room afraid to smile: his moustache might fall off. There seemed no glamour in the moment, just hard work. I asked: "Why do you do it?"
He sighed. "I'll tell you some time." He did, his answer much like Vincent Warren's: for dance. For the thing itself.
My problem wasn't just stress. It was meaning, or rather the lack of it, in my life. That had once seemed to come so easily, the things I did making my life worth living. Those things were past now, and I wasn't sure how I might find anything like them again. But I'd get some unexpected help.
Sunday, December 29, 1974:

I was in Ottawa two weeks ago to visit Bill and Jacques, and also to see Terry Thomas and Craig Sterling, in town at the National Arts Centre. Seeing The Nutcracker (standing, having gained access via the stage door) was great, but it had nothing on sitting in T & C's dressing room during the half hour before the performance, watching them prepare.

Terry was dancing the part of Drosselmeier, the zany ballet master who in the Royal Winnipeg version has the second most important role after 12 year old Maria. Terry had teased and sprayed up his hair into an electric flight worthy of Phyllis Diller, pasted on a moustache that constantly threatened to fall off, and stretched on two pairs of tights to facilitate the first fast change.

As he sat there, afraid to smile because of the moustache, dabbing white Johnson's liquid over the dirt on his slippers, I was moved to ask why, finally, they were willing to go through all this. Certainly there was no glamour pervading the air to make the whole thing somehow magically worthwhile. And the answer, at that particular moment anyway, was not easy for Terry to verbalize.

He sighed, looked up at me and said, "I'll tell you some time."

He did later, at the Connaught, a restaurant across from the NAC. The performance hadn't been the best (not that I noticed), depressing Craig, who had to dance that evening as well. So he stayed in his room and slept while Terry and I talked.

Vincent Warren, in talking about those he admired in dance, had said they were the kind of people whose egos never got in the way of what they were doing. Terry agreed that it wouldn't be worth putting up with all that's involved -- touring, rehearsing, keeping up with classes, even simply getting made up again and again -- if one were doing it just to supplement one's ego.

Vincent hit on the real motivation: "It's not going to be me -- it's going to be dance!" Terry said that took a lot of years to learn.

When I got home I found Toronto Life in the mailbox, and in an article called "The Meaningful Job" I found a quote: "It has taken me half my life to realize that my task is not to make something of myself, but to find a job worth doing and lose myself in it." Which is to say, it is in what you do that you find yourself.
It wasn't all that easy for me to accept that what I actually did was fill a minor management role in a big university bureaucracy. I wasn't sure I wanted to lose myself in that. But for the moment that was reality: any idea that I'd make my life as a writer was mere illusion. I said to myself: Well, if you're going to be a low level bureaucrat, you might as well try to be a good one.
I'll end this year at The Parkside, as I ended that journal entry above, Sunday, December 29, 1974. It was a long one, and one of my last.
On Thursday Bill [of Ottawa] called from Woodbridge, where he was visiting his family, and we arranged to get together. He came over and we sat chatting for a while before going out to The Parkside for a beer or three.

At The Parkside we joined a dark haired man sitting alone with a Yukio Mishima novel (I'm never sure if Mishima is a good or bad sign). As is usual, we paid him little heed at first; the kosher assumption when you join someone at The PS is that they likely want to go their own way and you should yours, unless of course he makes other intentions obvious.

Bill mentioned something about the sales of the paperback of The Open Gate and the man brightened. He asked if I was a writer. "Was," I said, "I'm not so sure about the present tense." So we got talking.

He was up from Detroit by train for a few days, lived in New York working for Avon designing jewellery, sure that he should be doing something else. Since he knew little about the city I gave him my number and told him to get in touch if he wanted to walk around the next day. And he did.

Robbie called earlier that day: was I interested in a little warmed over turkey? I mentioned that man with some hesitation; Rob said he'd be glad to have him come along. As it turned out Rob really got off on him, not least because he's pretty cute.

Afterwards we went out to Aquarius 51, for the view of course [it was on the 51st floor of the Manulife Centre, the view south taking in all of downtown; there I liked to drink Black Russians], and thence off to The Manatee, where some of the go go boys have taken to wearing nothing but G strings -- which are as good as nothing, covering as they do about the same amount of skin as does pubic hair.

But then, the most alluring of them was more conservatively clad -- in an entire bathing suit and a matching neckerchief. He had a good face -- and of course it is the face, after all, that is it, isn't it? Well of course -- when you can get your eyes off the competing set of naked buns next door. I left around 2:30.

Flav came over on Saturday for tea, and for a lark we decided to go see The Towering Inferno, keeping abreast as we are of the disaster epic genre. After the film we killed three hours at The PS, watching a TV program about airplane crashes.




So there you have it, the week (plus) in review. Not that all of them are this busy. Nor that, even if I weren't working, they would be either.

The hidden factor in not having a job is that there would, in truth, have to be something else to do. Even if it were only sitting down and doing a bit of this every day.

But then, let's not talk about it. Or where money comes from or any such thing.
---
Go on to 1975

Go back to: Contents page / My Home Page
This page: http://www.rbebout.com/bar/1974.htm
December 1999 / Last revised: July 10, 2003
Rick Bébout © 1999-2003 / rick@rbebout.com